Natural Products cpg brands
Are you ready

to be seen by top retailers, 365 days a year?
Making Connections
On and Off

The Show Floor
New Hope Network is known across the industry for Natural Products Expo West, the world's leading trade shows where retailers, buyers, and investors connect with natural and organic brands.

We've extended the high standards and level of trust that retailers have for Expo to Beacon Discovery, our anytime-anywhere digital discovery platform.
Beacon Discovery is the first platform for online natural products discovery that combines New Hope Network's standards for ingredients, transparency, and integrity with robust filtering to match buyers and brands. Beacon Discovery makes it simple for buyers and brands with aligned priorities to find each other for business that positively impacts people and planet.

Be seen, heard, and found for who you are, how you're different, and what you do best. Beacon Discovery is available to exhibitors and by subscription for all eligible CPG brands.
Integrity, Transparency, and Beacon Discovery
With more natural products on the shelves than ever before, and some new product innovation fueled by disruption and reinvention, the conversation around transparency is more important than ever.
Beginning in 2023, every brand will be reviewed by New Hope's Standards team before the show. In the past, standards reviews have been required for new exhibitor applications and for returning brands on-floor at Expo, but as transparency has become more important to our industry (and to buyers), we know that reviewing brands in advance will help every product shine in its best light. Additionally, brands can validate marketing integrity by becoming MarketReady Verified.
Discover More than a Directory
Beacon Discovery is the only product discovery platform that matches brands with buyers based on the transparency that retailers say they want. Where other platforms might give greater exposure to brands that pay more, Beacon identifies connections based on the buyer's ingredient preferences, values, mission, and more than 100 other filters. Products are also given a sustainability impact estimate from HowGood, the world's largest database on food product sustainability, to highlight brands that are making ESG-focused decisions. Beacon also integrates with the show experience at Natural Products Expo and other New Hope events, making it easier for buyers to find the brands they want to carry.
Featuring top Brands Like:
Currently, Beacon Discovery is available to food and beverage products and supplements. Look for beauty, cleaning, pet products, and more - coming soon!
Top retail buyers, as well as investors, brokers, marketing agencies, and more are looking for new products and brands on Beacon Discovery. Beacon Discovery helps retailers plan their Natural Products Expo experience by giving them product details and brand stories before the show. Products that retailers mark as "favorites" will even be integrated to a show map for easy navigation.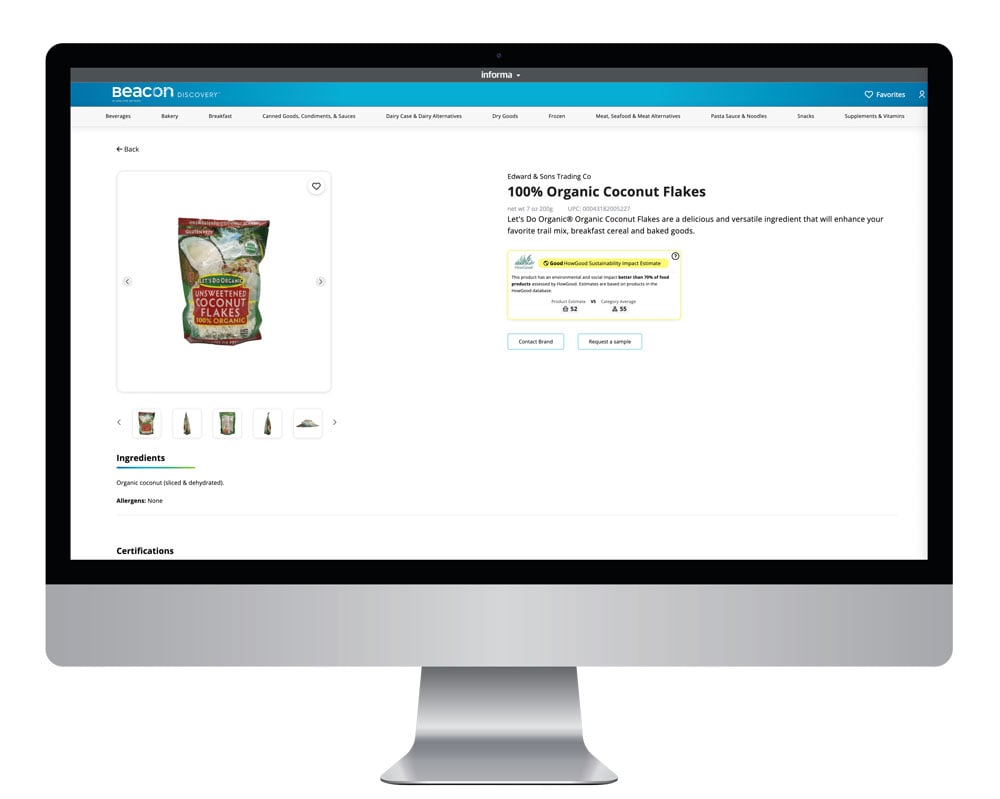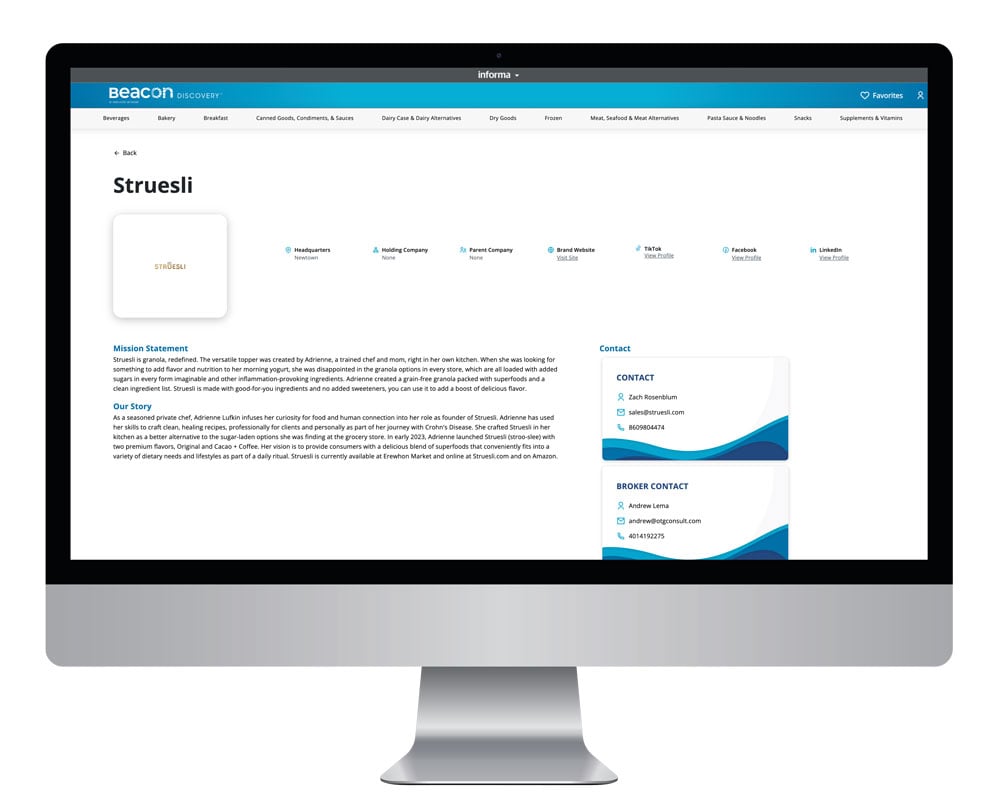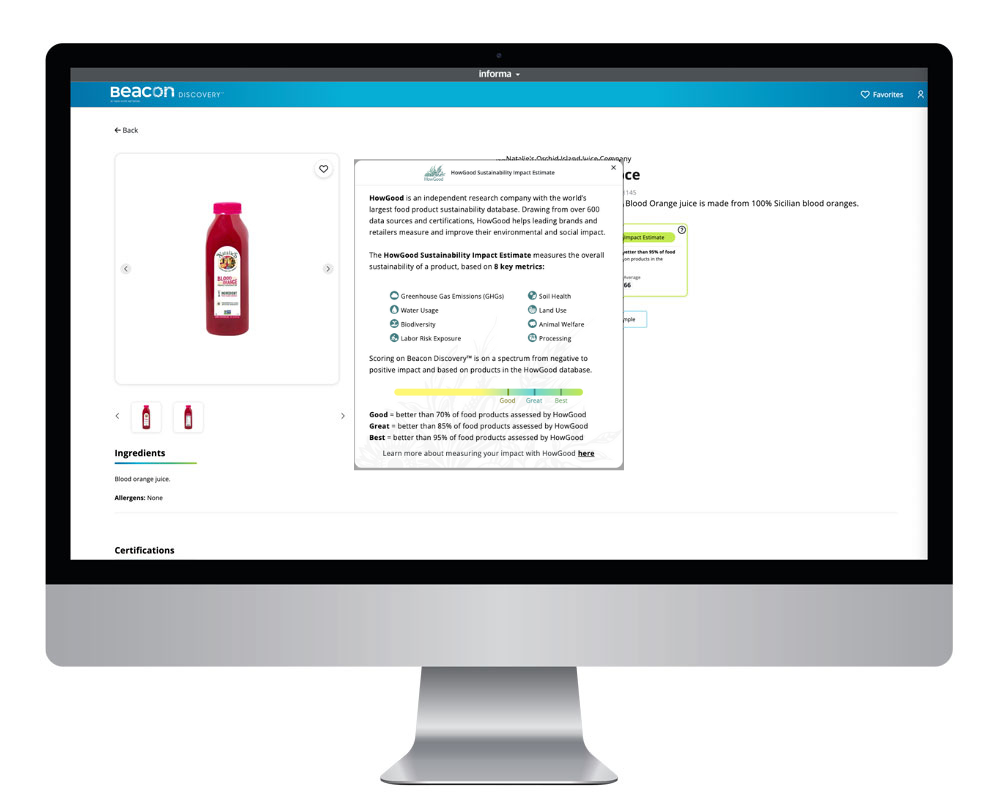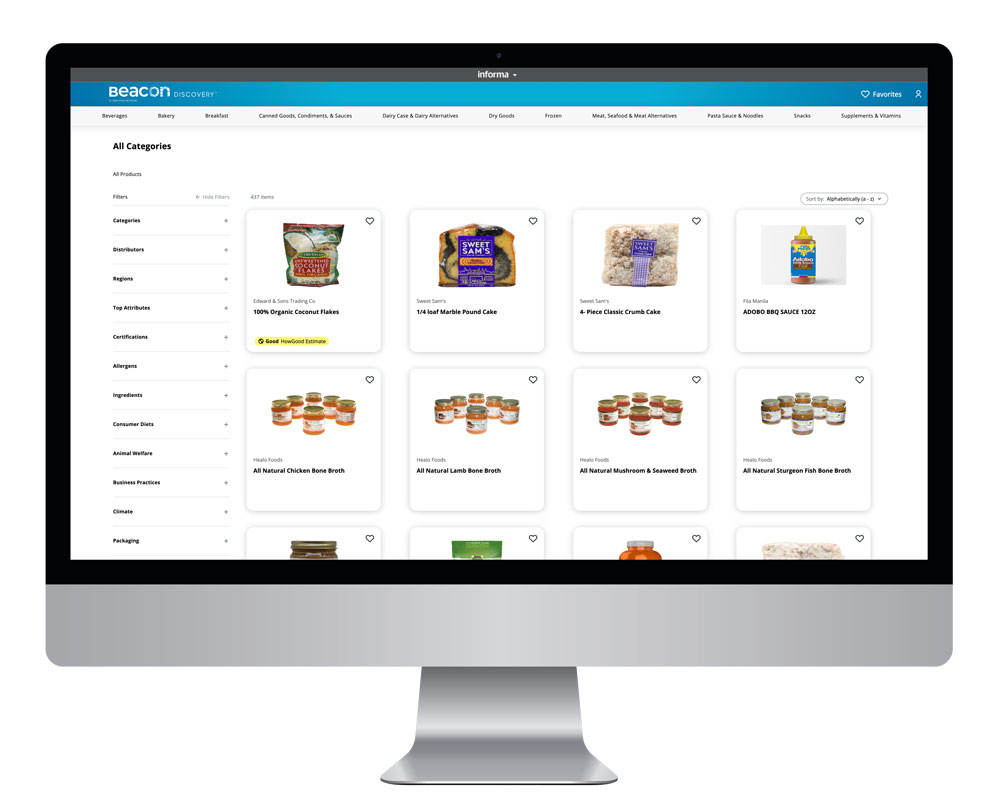 Are You Exhibiting at Natural Products Expo?
As an exhibitor at Expo, Beacon Discovery is included in your booth package. As part of our continuing efforts to promote transparency and integrity, our Standards program is expanding to include pre-show reviews. Product information uploaded as part of this review will be concurrently uploaded to Beacon Discovery, to help retailers plan their Expo experience and find you 365 days a year.
Not Ready to Exhibit at Natural Products Expo?
Beacon Discovery is available by subscription for all eligible CPG brands, so you can still be discovered by top retailers from Natural Products Expo who are looking for products like yours! All products must meet our New Hope standards and current platform offerings to be eligible for Beacon Discovery. To learn more about our Ingredient and Labeling Standards, click here.